Anti-Mask Group Blocks Access To Video After Public Response
April 15, 2021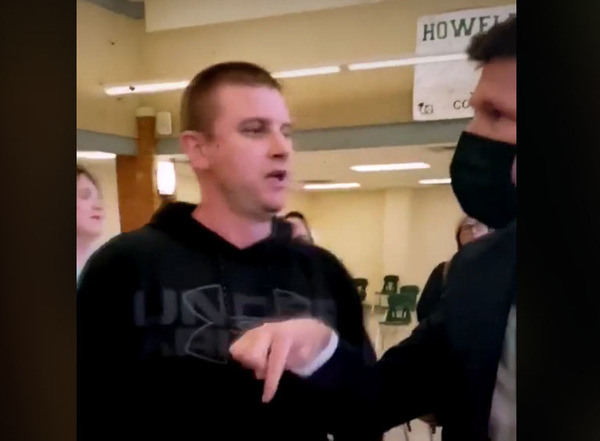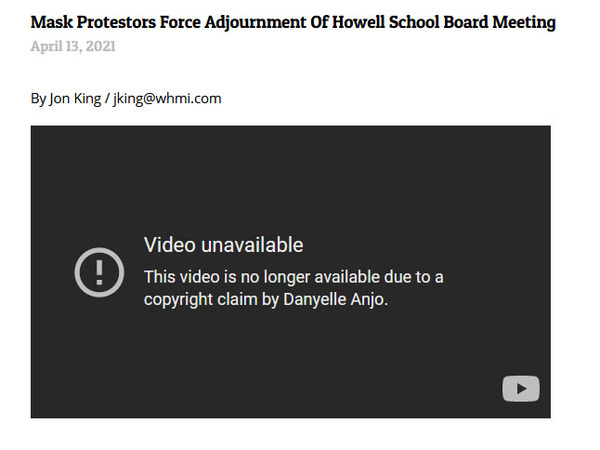 By Jon King / jking@whmi.com


The group that forced the cancelation of Monday's Howell School Board of Education meeting when they refused to wear masks has contested the copyright of the video they posted to their Facebook page, forcing YouTube to restrict access to it. However, audio of the encounter is available through the link below.

District officials said the board voted to adjourn and reschedule the meeting for April 19th as members of Unmask Livingston and Surrounding Areas were in violation of state health department orders that attendees must wear masks. In a video from their closed Facebook page, a group of protestors confronts Howell Superintendent Erin MacGregor after the meeting had been adjourned, exclaiming that the board was violating their rights by not allowing them to attend the meeting without masks. They are heard insisting they have medical proof that masks are not effective, contrary to numerous scientific studies and guidance by the Centers for Disease Control & Prevention. They also insist that there is no legal mandate that the health department orders be enforced.

The video was sent to WHMI by someone who had access to the page. They used their phone to record the video off of a computer screen and sent it without any other details. The video garnered numerous critical comments of the group and their actions, with many on social media saying their actions were "foolish" and reminiscent of a "toddler temper tantrum". When questioned why they no longer wanted the public to see a video of their actions, a video that they shot and posted to their page, they did not respond.

The comments to the video can be seen in the post below;



Unmask Livingston and Surrounding Areas, which advocates for the elimination of all COVID-related restrictions, said on Facebook prior to Monday's meeting it was "rallying the troops" to attend and "educate, protect and advocate for our God-given and constitutionally protected rights."

Howell Public Schools has reported 25 confirmed cases of COVID-19 among students and staff since Saturday. None of the cases are believed to be connected to in-school transmission, which is largely attributable to the district's enforcement of mask-wearing and social distancing guidelines.

According to the Centers for Disease Control & Prevention, Michigan currently leads the nation in COVID infections, case rates and hospitalizations, which health officials say is largely being driven by the rapid spread of various COVID variants, which are more transmissible, and declining levels of compliance with basic safety measures like mask-wearing and social distancing.

A recent peer-reviewed analysis from the National Academy of Sciences concluded, "Public mask wearing is most effective at reducing spread of the virus when compliance is high."

The group also showed up at the Brighton Area Schools Board of Education meeting as it was adjourning Monday, and angrily confronted board members after they had agreed to return to a hybrid meeting format. However, the specific nature of their complaint to Brighton school officials seemed to center on the district's continued adherence to the state health department's mask policy.

The group was assisted in promoting attendance at the Howell school board meeting by Guardians of Freedom Michigan (GOFM), which said on Facebook it was working, "to help inform and organize to take back our state, one community at a time." The group was formed in January and states it "believes in having meetings that any Michigander can easily attend. GOFM stands on the belief and understanding that our federal and state Constitutions are based on God's Word, the Bible." It is fundraising on the GiveSendGo crowdfunding site.

Both the Guardians of Freedom and Unmask Livingston have blocked WHMI from viewing their Facebook pages.