LESA Snack Pack Food Drive Begins Monday
November 25, 2017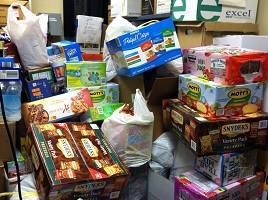 Snacks are being sought for a yearly food drive that provides for students in need during the holiday break.

The Livingston Educational Service Agency, or LESA, developed The Education Project a number of years ago after realizing just how many students are considered homeless in the area. The program collects non-perishable food items, which are then put together in snack packs and sent home with students in need during their winter break from school. Coordinator Candice Olrich says during break, those students aren't able to receive the free breakfast and lunch from school that they normally do. The snack packs are used to supplement those missing meals.

Olrich says the project's goal is to fill a need so students can focus on their education, instead of worrying about going hungry. She says the need is definitely there, as there approximately 450-500 students in Livingston County who are considered homeless.

Olrich adds the program could not succeed without the community's generous support, and that it is greatly appreciated. Last year, nearly 250 students received snack packs and 10 emergency food kits were given to families in need of food.

Donations can be dropped off at LESA, which is located off of Grand River in Howell, Monday through Friday from 7:30am to 4:30pm. The drive will begin November 27th and go through December 8th. The snack packs will then be distributed the week of December 11th.

Some suggested snacks include but are limited to pudding cups, Ramen noodles, oatmeal, fruit snacks, popcorn, juice boxes, granola bars, mini cereal boxes, snack-size chips or pretzels, and fruit cups. (DK)


LESA Facebook Photo.