Cinderella's Closet Opens For Homecoming Season Thursday
September 13, 2017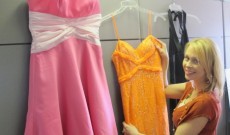 Local girls looking for inexpensive options for Homecoming dresses can take advantage of a non-profit boutique opening this week.

LACASA Center's Cinderella's Closet opens Thursday and will run for two consecutive weekends. The boutique, held at Snedicor's Green Earth Cleaners in Brighton, will be open this weekend and next weekend on Thursdays and Fridays from 3 to 8pm, and on Saturdays from 11am to 4pm.

The twice-annual shopping event offers high school girls a chance to buy dresses and gowns at vintage prices while helping charity. All dresses are just $25 and proceeds stay local to help abuse victims at LACASA Center. Cinderella's Closet refreshes its look each season and provides a comfortable atmosphere for girls to shop.

Dress scholarships are available, and shoppers may discreetly ask the attendant at the cashier counter for scholarship information. Shopping is reserved for students only, and school IDs will be requested at check out. Further details about Cinderella's Closet can be found at the link below.