Howell's Weatherly Named Mr. Baseball
June 20, 2017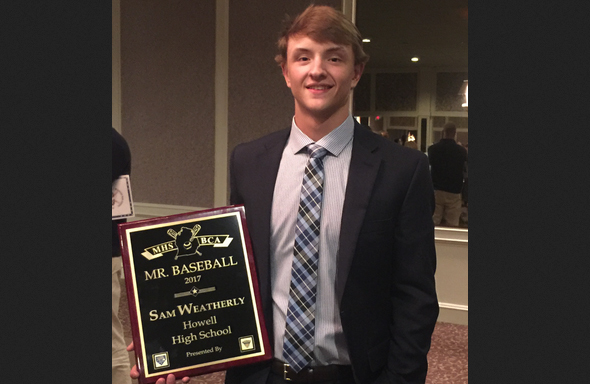 Howell's Sam Weatherly was named Mr. Baseball Monday night at the annual banquet honoring those selected to play in the annual all-star game. Weatherly is the first Howell player, and fourth from the county overall, to earn the honor, which was voted on by the Michigan High School Baseball Coaches Association.

Weatherly, who was drafted last week by the Toronto Blue Jays, batted .482 for the Highlanders as a centerfielder, while on the mound was 6-2 with a 0.78 earned-run average. He has signed to play baseball at Clemson and will begin school there next week.

Weatherly and teammate Caleb Balgaard will play in Tuesday's MHSBCA All-Star game at Comerica Park. They are the first Howell players in recent memory to be named to the game.

Weatherly is the second Livingston County native in a row to be named Mr. Baseball. Hartland's John Baker, now at Ball State, shared the award last year. Brighton's Ron Hollis won it in 1991 and Drew Henson won in 1998.