South Lyon Wants To Make The Jungle A Place To Fear Again
August 31, 2022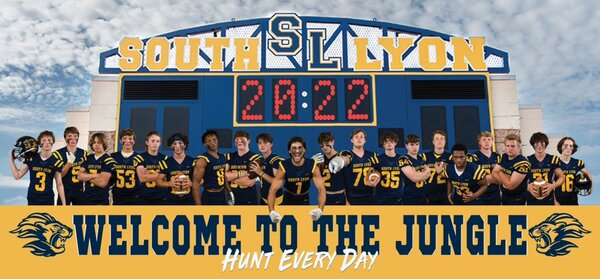 By Terry Foster

I do not fear The Jungle. Of course I've never played a football game at South Lyon High School.

South Lyon has one of the most electric introductions in Michigan football history as while rushing the field to Guns N Roses "Welcome to the Jungle." It pumps up the crowd. It fires up players. It even sends chills down the spines of neutral observers.

Is it the song? Is it the coaches? Is it the players?

Regardless, The Lions have won 22 of their last 26 games at the field affectional nicknamed the Jungle.

They will be at it again Thursday night (7 p.m.) kickoff against the dangerous Mustangs of Milford (1-0). The game can be heard live on 93.5 FM WHMI. This hasn't been much of a series. Milford, once a state power, is rebounding from on field struggles. The Lions have outscored Milford 181-54 during a recent four-game winning streak.

South Lyon (0-1) ran into second half injury problems as Walled Lake Western rolled to a 47-26 victory in The Jungle. The Lions trailed 31-26 with about five minutes remaining in the third quarter. However, four key players were felled by body cramps and could not continue.

That gave Western running back Darius Taylor more wiggle room as he rushed for a school-record 345 yards on 27 carries. Western scored the final 16 points of the game to win going away. Taylor won't make a return trip Thursday which should make things more manageable for the Lions. They are also hoping the home atmosphere charges up players more.

"We have a great atmosphere," said coach Jeff Henson. "We play at The Jungle and a very supportive student section and crowd."

Let's add more juice to this game. Milford is feeling good about its program. After several years of losing seasons the Mavericks finished 7-3 last season. The theme of the program is "Bring Your Own Juice." Junior linebacker Wyatt Lesnew brought his own juice with eight tackles during an opening-season 28-7 victory over New Boston Huron.

He may have also juiced up this game by predicting a victory over South Lyon.

"On to South Lyon," Lesnew told The Spinal Column. "We're 1-0 and we will be 2-0 next week."

Hmmm. Those are fighting words in The Jungle.

** Do you believe soccer is boring?

Well you obviously have not seen Pinckney's boys soccer team play. These guys score and they score often.

Senior Owen Keene is scoring at an alarming rate. He popped in a pair of goals, along with an assist, during a 4-0 victory over Jackson. The Pirates (2-1) have scored 13 goals in three games.